7 Black Mental Health Pioneers Everyone Should Know
The MIND 24-7 Team | February 28, 2023
This Black History Month, we invite you to study pioneering Black Americans whose contributions to mental health laid the groundwork for further important work and opened the field to more people of color. These are just seven of the many notable Black mental health trailblazers in the U.S.
Mamie Phipps Clark, PhD, and Kenneth Bancroft Clark, PhD
This prominent couple conducted landmark work focused on the mental health of Black children. In 1940, Kenneth was the first Black American to earn a PhD in psychology at Columbia University, and three years later, Mamie became the first African American woman to earn a doctorate degree in psychology there. More than 200 Black children participated in the Clarks' doll study, which investigated the effect of segregation on Black children's attitudes about racial self-identification in the 1940s. In the U.S. Supreme Court Brown v. Board of Education case, the Clarks' research provided invaluable evidence to help end school segregation on the basis that it was psychologically harmful to Black children. In 1966, Kenneth served as the first Black president of the American Psychological Association.
Herman George Canady, PhD
Canady earned his bachelor's, master's and doctorate degree (1941) from Northwestern University. As a clinical and social psychologist, he was best known for exposing racial bias in psychological research. Specifically, he studied how the rapport between a white IQ examiner and Black test subject could create bias in IQ testing.
His research results helped provide insights into how to best design test environments to help Black students succeed. Canady went on to become a member of the American Teachers Association, which was formed in response to the ban on Black teachers initiated by the National Education Association.
E. Kitch Childs, PhD
A feminist leader who advocated for women in psychology and the LGBTQ+ community, Childs was best known for her work with people living with HIV/AIDS and other marginalized members of her community, including sex workers, in the Bay Area. As a graduate student in human development at the University of Chicago in 1969 at the height of the Women's Liberation movement, Childs helped found the Association for Women in Psychology (AWP) and the city's Gay Liberation Front. As a strong champion of feminist therapy, her treatment model helped her clients, particularly Black members of the LGBTQ+ community, advocate for themselves and for racial justice.
Maxie Clarence Maultsby Jr., MD
After completing his psychiatric residency at the University of Wisconsin, Madison, Maultsby joined the medical faculty there in 1970 and formalized the therapeutic approach known as rational behavioral therapy (RBT). RBT, which focuses on self-counseling, helps people identify and manage irrational beliefs and self-defeating thoughts and emotions.
Maultsby went on to become the chairman of the Department of Psychiatry at Howard University College of Medicine and wrote several books on cognitive-behavioral medicine. He also founded the Training and Treatment Center for Rational Behavior Therapy in 1973.
Bebe Moore Campbell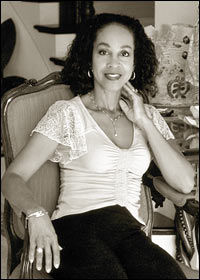 An author, advocate and educator, Campbell's novels, including Your Blues Ain't Like Mine (1992) and Brothers and Sisters (1994), speak to the effects racism can have on relationships and individuals. Her first children's book, Sometimes My Mommy Gets Angry, was published in September 2003. The book was inspired by her struggles to find support for her daughter who battles with mental illness. It won the Outstanding Literature Award from the National Alliance on Mental Illness (NAMI).
Her family's struggles also sparked her to help others facing similar problems. She founded NAMI-Inglewood, a safe space for Black neighborhood members to talk about their mental health.
Solomon Carter Fuller, MD
One of the first Black psychiatrists, Fuller was a trailblazer in the study of Alzheimer's disease, including publishing the first comprehensive review of the disease in 1912. Originally from Liberia, Fuller immigrated when he was just 17 and earned his undergraduate degree at the historically Black Livingstone College in North Carolina.
He earned his medical degree from Boston University in 1897. His work with Alzheimer's began when he was selected as a research assistant for Alois Alzheimer at the Royal Psychiatric Hospital in Munich in 1904. In 1919, he went on to become an associate professor of both pathology and neurology at Boston University, where he was the only African American faculty member.
Innovating mental health care, together
Throughout history, the study and practice of mental health care have benefited from brilliant minds—asking questions, seeking answers, always innovating. These Black innovators and so many more have been crucial to the evolution of our understanding of mental health.
At MIND 24-7, we are committed to ongoing advances in mental health care—its study, approaches to patient care and care delivery—and we are eager to champion our partners who are doing the same.